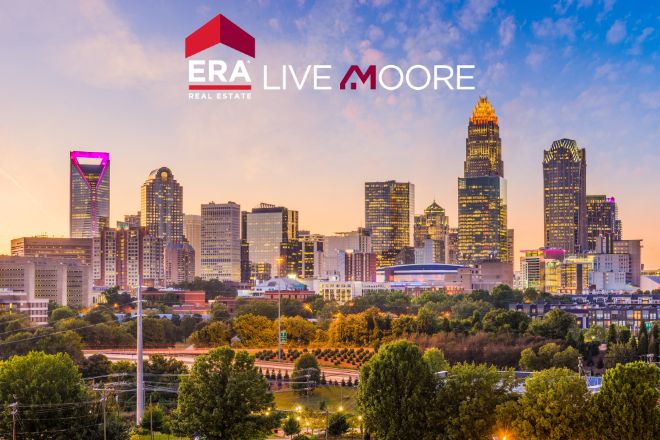 Wilkinson ERA Real Estate Rebrands as ERA Live Moore, Expanding the Company's Brand Presence Throughout North Carolina.
Charlotte, NC (September 21st, 2022) — ERA Live Moore Real Estate, the number one ERA real estate company in the Carolinas, today announced the rebrand of its company, formerly known as Wilkinson ERA Real Estate, at their Fall Sales Rally and Launch Event. Following on from the successful launch of ERA Live Moore in Raleigh's Triangle Region in 2019 and the addition of the company's Wilkesboro office, in early 2022, today's rebranding announcement expands ERA Live Moore's presence throughout the Charlotte Metro Area and Winston Salem's Triad region. The ERA Live Moore rebrand continues to grow and serve its market throughout the Carolinas.
ERA Live Moore is led by President and CEO, Eb Moore and Qualifying Broker, Tania Moore. Together, Eb and Tania set out to build a company that serves homebuyers and sellers through an agent-focused real estate model. ERA Live Moore places an incredibly high priority on its sales associates, giving them the tools and resources to provide their clients with impeccable service with each transaction.
Tania Moore, Qualifying Broker, Owner, ERA Live Moore Real Estate, said, "Expanding our Raleigh-based ERA Live Moore brand reinforces our market presence in the Carolinas, delivering excellence with every transaction for both the agent and consumer." She added, "We lead each day with an unwavering commitment to our vision, "We empower dreams through real estate." ERA Live Moore Real Estate professionals utilize their unparalleled local knowledge and valuable insight gleaned from years of industry-recognized excellence to be successful entrepreneurs and independent business leaders. Our presence throughout the fast-growing North Carolina real estate market represents a significant and continued investment in the areas we serve and offers a supportive environment where agents and clients can conduct their real estate business under the collective umbrella of an award-winning real estate company backed by the ingenuity of an international brand."
"Today marks a long-awaited, exciting, and pivotal moment in our company's 23-year history. Our rebrand to ERA Live Moore is a powerful affirmation of the impact we consistently have on the communities we serve. We embrace the opportunity to continue building on the success of our first ERA Live Moore office established in Raleigh in 2019. This rebranding comes at a time of tremendous growth and expansion for our company," said Eb Moore, President & CEO, Owner, ERA Live Moore Real Estate. He added, "as ERA Live Moore's footprint across the Carolinas continues to grow, so will our commitment to cultivate a culture of excellence within a diverse and inclusive workplace where everyone is empowered to succeed."