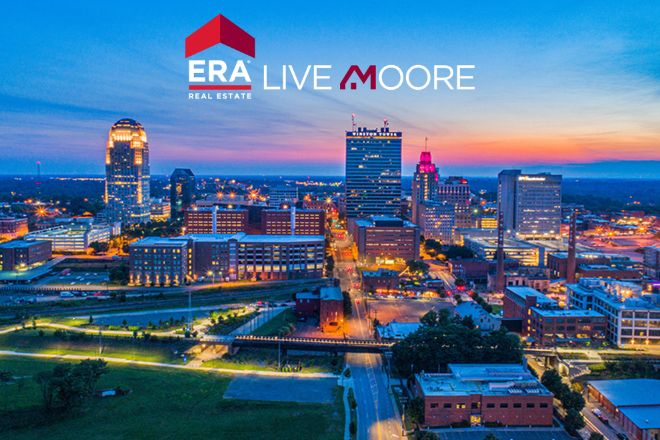 Winston Salem, NC (August 25th, 2022) — ERA Live Moore Real Estate, the number one ERA real estate company in the Carolinas, today announced the rebrand of its Winston-Salem office, formerly Wilkinson ERA Real Estate. The expansion into the Triad Region includes the recent merger with Wilkesboro-based Carolina Realty, now Carolina Realty ERA Live Moore. The ERA Live Moore rebrand continues to grow and serve its market throughout the Carolinas,
The company is led by President and CEO, Eb Moore and Qualifying Broker, Tania Moore. Together, Eb and Tania have set out to build a company that serves homebuyers and sellers through an agent-focused real estate model. ERA Live Moore places an incredibly high priority on their customers' success by providing an unparalleled service experience throughout the real estate transaction. ERA Live Moore brings a vision and set of values that differentiates itself in today's market, bringing purpose and fulfillment when assisting buyers and sellers in empowering their dreams of homeownership.
"ERA Live Moore's rebrand in Winston Salem is an opportunity to create a strong brand presence in the Triad region, at a time of tremendous growth and brand expansion for our company," said Tim Jones, General Manager, ERA Live Moore Real Estate. He added, "as ERA Live Moore's footprint across the Carolinas continues to grow, so will our commitment to cultivate a culture of excellence within a diverse and inclusive workplace where everyone is empowered to succeed."
Eb Moore, President & CEO, ERA Live Moore Real Estate, said, "Expanding our Raleigh-based ERA Live Moore brand reinforces our commitment to the Carolinas, delivering excellence with every transaction, for both the agent and consumer." He added, "Broker-In-Charge, Angela Kalamaras and her agents have unparalleled local knowledge, valuable insight gleaned from years of industry-recognized excellence, and possess a significant market share of the Triad Region. Our ERA Live Moore real estate office in Winston Salem is well-equipped to meet the buying and selling needs of today's clients and has an unrivaled location to match."
"As one of the Triad Region's leading real estate companies, we are keenly aware that our best agents are those who are developed and supported so they can make good things happen for their clients," said Angela Kalamaras, Broker-In-Charge. She added, "Our strategy centers around agent success and meeting the agent where they are in their professional journey, knowing that each agent's experience is unique. As ERA Live Moore, we can reach new heights of success with our agents, leveraging our growing footprint and brand recognition along with access to leading-edge tools and technology."
ERA Live Moore's presence in Winston Salem and the Triad Region's dynamic and growing real estate market represents a significant and continued investment in the area, offering a productive environment where agents and clients can successfully conduct their real estate business.